Muhammad Gangat – SMBP Alumni Ambassador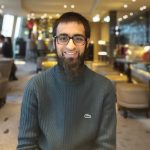 1. Who am I?
Well, this is always an awkward one, isn't it? My name is Muhammad Gangat. I'm 22, I'm 5'… No seriously, I've just (July 2019) graduated from my Law LLB Degree at SOAS University of London, where I spent 3 of the best years of my life. I am a future trainee solicitor at Bryan Cave Leighton Paisner (BCLP) in September 2020, before which I am going to do my Legal Practice Course (LPC) at the University of Law starting this coming September. I did the SMBP Scheme in 2016, where I spent days at England Rugby, Landsec, AIG, ITV & Harlequins Rugby.
In the real world, I'm a die-hard Arsenal fan, have completed a degree in Islamic Law, Theology & Jurisprudence and also currently run my own personalised garments company.
2. What does Social Mobility mean to me?
To me, Social Mobility is all about providing opportunities and access to those of us, from disadvantaged backgrounds, to corporations and companies which we would otherwise not have access to. Being disadvantaged in this context typically means being from a low-income family and having access to free-school meals. Going to a good school in my opinion, does not necessarily mean that you are not disadvantaged; I went to a Grammar Sixth Form, but I only got there as a result of my hard work and extra-long revision hours throughout GCSEs; by classifying advantage solely from the school you go to, alienates those of us who work that much harder during school to progress academically.
3. What does my role entail?
As the Head of Alumni of the SMBP, my role is simply to be your point of contact after you have graduated from the scheme. Typically, you'll be entering Year 13 as you finish the scheme, so you've got a few years before you secure yourself a Training Contract in a Law firm, a Graduate programme elsewhere, or a few months before securing a school leavers opportunity in the city. My role is to be your point of contact to support you in your applications, your personal growth and development after the scheme and to be like a mentor for you; we want you to succeed and make the most of what you've learnt on the scheme, the contacts you've made whilst on it and use that to facilitate your growth and it's my job to make sure that someone's here to support you in doing it.
4. What is the purpose of this blog?
This blog has multiple purposes, a few of which I'm just going to list below:
Giving you insights from senior people in corporations about their roles, advice they want to give you and be a source of motivation and inspiration for us all.
Giving you a first-hand insight to the SMBP scheme, what you can expect from a typical day at a range of firms – a diary of days on the scheme!
Inform you of a range of opportunities which may become available to you to take advantage of.
Giving you a chance to write about your SMBP experiences and share that with our Alumni and prospective students.
The purposes could go on, but honestly, ultimately, for me, I just want it to be a source of inspiration for you to remember to never give up on your dreams, because you really can achieve them.